fast and furious the fast saga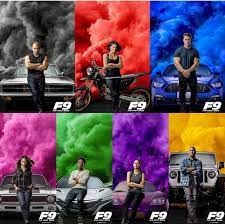 Fast and Furious 9: The Fast Saga is going to get released in theaters June 25, 2021 and the movie will be three hours and eight minutes long, PG-13, and, the genre of action and adventure, of course. The movie is about two brothers, Jacob and Dom, who have not seen each other for years. Jacob tries to kill Dom because Jacob was told by Cypher bad things about Dom, who will not let that happen as he puts everything on the line to take down Jacob. Jacob will need help from his crew because this enemy is "next level."
This is going to take everything that they got and might struggle but will still try.Jacob has worked so hard to be as strong and as smart as Dom but Cypher is ready to kill Dom and is waiting for Jacob to be ready to kill his own brother. Jacob has a car that is super fast he is given things to use on his mission like a grapple gun and a handgun. Cypher is the girl that helps Jacob kill Dom and she is not going to stop until Dom is dead and one of the members of the family is coming back ad he is ready to go and save Dom and help him stop Jacob from killing Dom it will be tricky but nothing is impossible for Dom and his crew they will make sure that he is stopped. Cypher is a villain and she was good at coding and hacking basically anything she wanted and that has been able to turn Dom against his crew and almost made him kill the crew.
The crew have had one new member and her name was Megan, is good at hacking and is able to unlock things like security cameras, curtain lock.