Tom Brady Retirement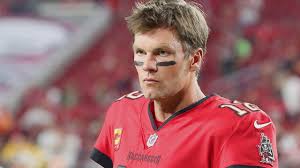 Reporter | Izrael Chavez
Tom Brady has officially retired after twenty-three seasons in the NFL. Twenty of those seasons were with the New England Patriots and three seasons with the Tampa Bay Buccaneers. They call him the "GOAT". The popular term, "Goat" means the greatest of all time.This is because he has won the most Super Bowl titles ever, a total of 7. At 45, he is also the oldest NFL player in history.                                                                                                                                                      
He was born in San Mateo, California on August 3rd, 1977. Brady was also known as a great baseball player in high school.Tom Brady went to college at the University of Michigan. Many people did not think he would make it to the NFL due to lack of speed and interest from scouts. He was the slowest quarterback in the NFL twenty years ago and he was the 199th pick in the NFL draft. Currently, he is 6 foot 4 and weighs 211 pounds.
He retired in his hometown February 1st, 2023 at Surfside beach. One reason he wanted to retire was to see his kids more often. He also has a clothing brand called TB12. He sells shirts, shorts, water bottles, etc. Tom Brady was the highest paid Quarterback in league history. Unfortunately, he went through a divorce with Gisele Bundchen before the 2022 season. According to Stephan Smith, he is "the best Quarterback ever." 
Tom Brady had the most career wins as a quarterback, and most passing touchdowns. The last team Tom Brady lost to was the Dallas Cowboys. He also made it to the NFL Pro Bowl fifteen times. The Pro Bowl is when the best players gather up and play games such as dodgeball, flag Football, etc. His number ''12'' will be retired as well, never to be seen again on another NFL player. His influence on the sport of football will be felt for years to come.