Divine Dines: Fuji Hibachi Grill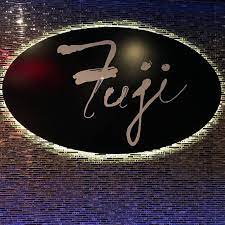 The hibachi grill, something that you used to find only in large cities, has been available for the past few years right here in Idaho Falls. Fuji, the house of the Hibachi is a master in this culinary art form and excels in both Asian delights and specialty drinks. When walking through the doors you are immediately met with an energetic and enthusiastic atmosphere and staff. The lobby greets you with two bigger-than-life sumo wrestlers in a fighting stance decorating the entrance.
Once seated at the cooktop table,  the fiery show finally begins. Your personal chef greets the group assembled around the cooking surface with a huge burst of flame from oil and a lighter. After the sudden burst of heat, culinary art truly begins. The chef puts on a show, which is a wonder to see. After the show, the chef begins cooking the orders. The order consisted of a savory filet and fresh chicken. The chicken was cooked with soy sauce which complimented well with the juiciness of the chicken.
The filet came out wonderfully, and just like the chicken, it was cooked with soy sauce. This will soon become one of the best filets you'll ever have. On the side were a salad and rice. Acquiring the side plates was a delicious yum yum sauce. Overall the environment, the staff, and the food of this place are astounding. There is no place quite like it on the face of the earth. Whether you are with kids or you want to go out for a drink this is the place to go.