Divine Dines: Sandpiper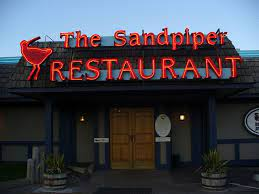 Photo of The Sandpiper Restaurant in East Idaho.
With all the hotels, restaurants, and businesses that line the Snake River, only one offers dining with a perfect view. The Sandpiper has been open since 1971 and has been one of Idaho Falls' top restaurants ever since.
The Sandpiper has loads of special qualities, not only with their menu but with their atmosphere as well. Relaxed, upscale, and oh… those views! The first item for review was the Es Cargo. The Sandpiper is one of the only restaurants in the area to offer this snail delicacy. The appetizer came out fast and was plated beautifully. The Es Cargo was hot, juicy, and full of garlic and buttery flavor and finished with finely shredded parmesan.
After sneaking another view of the beautiful river, it was time for the Walli. The first bite without the designated sauces was a bit bland. Once drizzled with the provided sauce and a dash of fresh lemon, the dish exploded with flavor. The crispiness of the breading, combined with the sweet taste of the sauce made this catch absolutely perfect.
The Walli was served with two sides. The clam chowder was thick and rich with plenty of flavors and served with oyster crackers. And the dish was paired with a baked sweet potato. The potato came with a ramekin of butter and fine brown sugar. All of the flavors of the plate were incredibly well done.
For dessert, the choice was clear from the get-go… their famous Creme Brulee. The cream itself was a bit cold, but other than that, this creamy, sugar-glazed delight was rich and melted in your mouth. The culinary art of the Sandpipers menu, the atmosphere, and its spectacular views combine to make it one of Idaho Falls' absolute best.