Black Ops Zombies is Finally Good Again!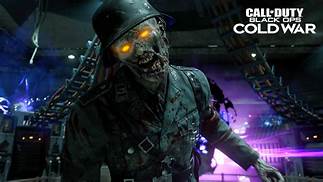 youtube.com/watch?v=01eEiugdJmE
One of the most popular video game franchises is Call of Duty. There have been many different titles for Call of Duty such as Modern Warfare, WWII, and Advanced Warfare, but what some would consider their most popular Call of Duty title is "Black Ops." The Black Ops games are made by Treyarch games and it tells about the Cold War and fictional futuristic Cold Wars, but aside from the Campaign, there is one game mode in the Black Ops games that is probably more popular, and that is Zombies mode.
Zombies mode dates back to 2008 in the game Call of Duty: World at War with the map Nacht Der Untoten, (which is German for Night of the Living Dead), and from that day forward Zombies mode sparked a love for fighting the undead in the Call of Duty game community. And Zombies has been a roller coaster for the past decade, with World at War it was pretty fun, with Black Ops 1 Zombies got popular very fast due to the success of their launch map Kino Der Toten, (which is Theater of the Dead in German).
Black Ops 2 started pretty poorly with Tranzit and Die Rise, but then when Treyarch released their next map, people loved it. The map was Mob of the Dead, which took place in Alcatraz prison, after that we were met with Buried and the masterpiece that is Origins. When Black Ops 3 came out it was different but not bad, and as the DLC's came, it got more popular.  Then DLC 4 came out, and people were disappointed about the ending, but then DLC 5 came and people felt better. It is also called Zombies Chronicles, which had 8 maps from World at War, Black Ops 1 and 2,  remastered on next-gen.
And this is where it started to go downhill for the series because the next Black Ops title was Black Ops 4. Due to the success of Fortnite, Treyarch scrapped their campaign and decided to focus on Blackout. While working on Blackout, they didn't have as much passion for Zombies as they had in the past because 5 of the 8 maps that were put out were pretty bad. The other 3 were pretty good, yet they had two different stories happening at the same time and they finally ended the Aether story that started in World at War making the ending bittersweet.
But recently they have released their new Call of Duty title which is Black Ops Cold War and Zombies. With this new Zombie experience, they decided to create a completely new story and it is a different and much better experience. This time they made Zombies like survival mode from Modern Warfare 3 and Multiplayer. Like normal Zombies mode, the launch map is called "Die Maschine" (which is German for The Machine) and the location is the map Nacht Der Untoten. However, with these new areas, you couldn't go into the original Nacht. And a whole new area under Nacht, a secret bunker area with hidden secrets of the past. Now, this Zombies mode isn't perfect and there are still problems with it such as being unable to do split-screen and other minor things here and there, but Black Ops Zombies is finally good again with the game Call of Duty: Black Ops Cold War.