The Exorcist
The Best Horror Movie to Watch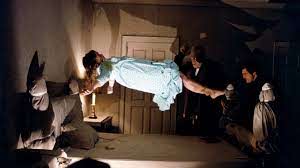 Halloween is coming up and you know what that means, horror movies! Halloween has been around for 2,000 years and the first ever horror movie was The House of The Devil in 1896. One of the best horror movies of this time is The Exorcist. The 1973 movie is about a young girl at the age of 12 named Regan, who starts acting strangely. She starts levitating and speaking in tongues. Her mother is worried and tries to seek some medical help but doesn't find anything. A local priest, however, thinks that this young girl may be seized by the devil. The priest then requests an exorcism and the church sends an expert to help with the difficult job. This is a good movie to watch because this movie is also based on some true events. The true story happened around 1940 in the U.S.. Priests from the Roman Catholic Church did exorcisms on a 14 year old boy named "Roland Doe." He was an alleged victim of demonic possession. These events were recorded by Raymond J. Bishop. 
Roland was born into a German, Lutheran family who lived in Cottage City, Maryland. Roland was the only child, so he depended on adults for playmates, especially his Aunt Harriet. His aunt was a spiritualist, and one day she showed Roland a Ouija Board. After Aunt Harriet died, the family started hearing strange noises. Furniture and other objects around the house started levitating when the boy was nearby. Then the family turned to Luther Miles Schulze, a parapsychologist, who spent the night to see what was going on. J.B. Rhine, another parapsychologist, then learned from Schulze that he witnessed household objects moving by themselves. Schulze suggested to the family to see a Catholic priest. According to the original story, the young boy undertook numerous exorcisms. In Roland's last exorcisms he had the words "evil" and "hell," and other words, on his body. During the process Roland had broken Walter Halloran's nose, the priest doing the exorcism.  Walter Halloran said that after the last rite was over, this anonymous subject went on to lead a rather ordinary life.
About the Writer
Zitlali M
My name is Zitlali but every one just calls me Lali. I enjoy writing stories and I can't wait to wright more.