Tajma griz goes digital with upgrade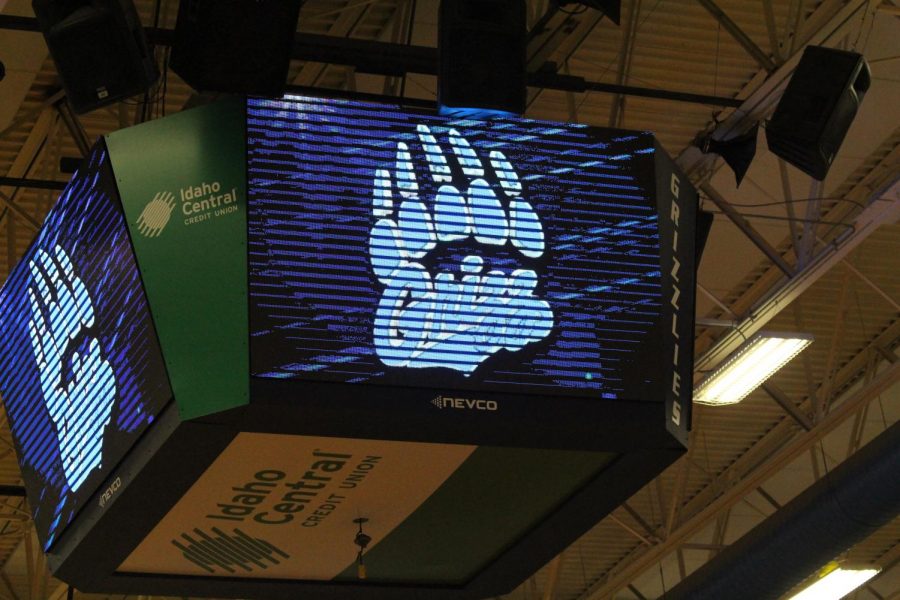 The lights went down, and the blue flames on the scoreboard flickered brightly, reminding me of a professional arena. The excitement factor of the basketball game increased tangibly as the crowd waited for the announcer to introduce the players. As he shouts their names, their photos and positions pop up on the screen. This is the new starting routine for a basketball game at Skyline High school. If you haven't been to a game yet this year, you may want to give it a try in the new year as the gym has received a serious upgrade: a 4-way, full color, interactive video scoreboard, the first of its kind in an Idaho High School gymnasium.
With the installment of this giant-sized technology comes the opportunity for a whole new crowd experience, including interactive games and apps, like a kissing cam and dance cams. The board also lights up after amazing plays with animated cheers, similar to what you might see at a bowling alley after getting a strike. It also has the capability of doing live replays, something never seen in an Idaho high school gym to date.
Elijah Sorensen (12) is one of the students who has been trained to work the scoreboard. "It gets people to be part of the game," Sorensen said. "A little kid's face was star struck when he saw himself on the screen. It took him half a second to realize that it was him, and then his face lit up in joy as he started dancing." 
The scoreboard brings a new light to all of the events going on in the gym, and not just to basketball games. It improves the quality of assemblies too. At the beginning of the year, you may remember the dance off activity we had between the classes where we used the video scoreboard and the cameras to play a version of Just Dance. The sound system is much improved as well.
So if after Christmas you find yourself a little down and in need of some excitement, come support our Grizzlies on the court. And bring a friend. You may get to take advantage of that kissing cam!