Turkey, Syria Earthquake Kills Thousands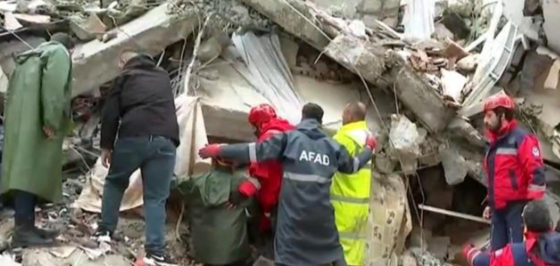 On February 7, 2023, an earthquake killed thousands of people. This happened in the countries of Turkey and Syria. About 4.6 million children were killed just in Turkey alone, but in Syria, there were 2.5 million children who were affected by the massive earthquake. They have had teams searching for about a week now, and they have just started to bring dogs from all over the world. Countries like Germany, Mexico, Qatar, South Korea, Switzerland, Ukraine, and the United States.  
The Turkey and Syria earthquakes are known as "catastrophic earthquakes". Catastrophic earthquakes have destroyed many buildings in just a little amount of time. A couple of days later the rescue teams are still searching for survivors in the crushed and fallen buildings. According to Turkish President Tayyip Erdogan, " the collapsed buildings reminded the government of the need for stricter construction rules". The government would continue work until they found the last person rescued from the crushed buildings in the quake-hit area. On February 14, King Charles came to meet volunteers from the U.K  to express his appreciation. 
Twelve days after the incident, more than 46,000 people died and 84,000 buildings collapsed. On February 18 health workers arrived in the quake-hit area, They became concerned about the spread of infectious diseases. They have not named the conditions the survivors have yet. On the same day, the Turkish internet lashes out at the government. People are sharing old tweets and videos embarrassing the government after the earthquake.