Ronnie Spector's Life Line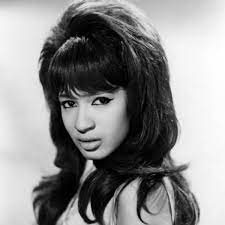 Ronnie Spector was born in East Harlem, New York, NY on August 10th, 1943, and passed on January 12th, 2022, while battling Cancer. Ronnie Spector was an American Singer and was a part of The Ronettes. The Ronettes had many album hits but later split up in 1967.
Ronnie Spector grew up in the Spanish Harlem neighborhood of New York City. Ronnie had a huge musical influence from her family. She and her sister, Estelle, and their cousin, Nedra Talley, began performing at a young age singing at New York ¨Sock Hops¨. The Ronettes formed in 1957. When they later released their first album in 1964 Presenting the Fabulous Ronettes Featuring Veronica. The Ronettes had a lot of trending songs like My Baby in 1963, Walking in the Rain in 1992, and their Christmas album in 1963. The Ronettes went on a tour in Germany in 1967, later, after the tour, the girls decided to go their separate ways. 
Ronnie decided to still keep making music and touring. She made music with lots of people and different bands, including Take Me Home Tonight with Eddie Money, and recorded Joel's Say Goodbye to Hollywood with Bruce Springsteen's E Street Band, and recorded She Talks to Rainbows in 1999. Later, on March 12th, 2007, the Ronettes were introduced into the Rock & Roll Hall of Fame. 2 years later Estelle died of Colon Cancer at the age of 67 in Englewood, New Jersey. Now we say goodbye to beloved Ronnie Spector. Which leaves Nedra Talley the last one living in the trio.