Toys for Tots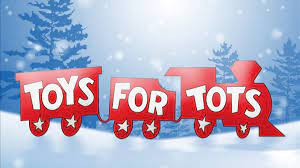 Toys for Tots logo, a symbol of giving.
It's getting to that time of year, time for the holidays. The holidays are a wonderful time for most people, but for a big majority it can be hard due to lack of money or even missing family. There are options available to try and help people have better holidays like turkey baskets and Toys for Tots. These are organizations that receive donations to give to families that need them. Toys for Tots first started in 1947 and is run by the US marine corps. It was founded in Los Angeles and is served in the United States. The worth of all the donations they receive in the year is in the millions. Bins for Toys for Tots can be anywhere including schools and local coffee shops.  
In 2014 Toys for Tots received over $284 million dollars worth of donations. It was the best year they have seen. These donations were made up of physical and online donations. Another high year was surprisingly 2020, they donated 20 million toys. Even though the pandemic showed some challenges it was the best year as of recent. . 
At my workplace, we have toy boxes so people can put their donations in them. At our school, we also have boxes for coat donations. If you keep an eye out, you will notice them everywhere. One Christmas when I was eight years old, my Christmas was wonderful. It was my first Christmas with my stepfamily and I later learned that it was because of Toys for Tots. I now understand how amazing this program is. So if you ever see those donation boxes make sure to see what you can do because you never know whose Christmas you can make amazing.