Just In: Southwest Airlines Now Investigating a Political Remark Made by a Pilot.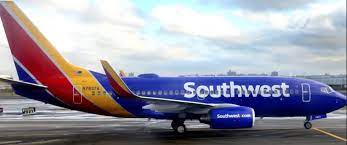 Picture of a plane Bowing aircraft from Southwest Airlines
Southwest Airlines has launched an internal investigation after a Captain allegedly made anti-Biden political remarks over the plane's PA system. Reports indicate that on a Friday morning flight from Houston, TX to Albuquerque NM, an undisclosed pilot used the controversial "Let's go, Brandon." phrase over the public address system, and that there were audible gasps from passengers. 
With its origins at a NASCAR race in Alabama in October, the phrase "Let's go, Brandon" has become common in the conservative community as a way of expressing, "F*ck Joe Biden." This started as a meme that has now widely spread to Republican members of Congress and has even been said on the House floor. The incident witnessed by The Associated Press occurred less than a month after the pilot's union issued a "safety message" to pilots regarding distractions in the cockpit. In a memo, the union said increased fatigue has been a distraction among pilots this year as travel continued and staffing couldn't keep up. 
Southwest says it does not condone its employees sharing personal political opinions while working. "The Southwest team takes pride in providing a welcoming, comfortable, safe, and respectful environment for the millions of customers who fly with us each year," the statement said. "Southwest does not condone employees sharing their personal political opinions while on the job serving our customers, and one employee's individual perspective should not be interpreted as the viewpoint of Southwest and its collective 54,000 employees." Southwest stated. "Southwest is conducting an internal investigation into the recently reported event and will address the situation directly with any Employee involved while continuing to remind all Employees that public expression of personal opinions while on duty is unacceptable. Southwest does not tolerate any behavior that encourages divisiveness," the airline added. Southwest did not provide additional details on the investigation and did not disclose whether the pilot is on administrative leave. The Southwest Airlines Pilots Association (SWAPA), had no comment, concerning the investigation.