The Inauguration
President Joe Biden enters his presidency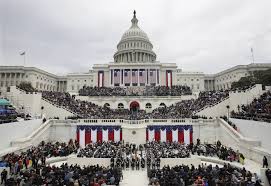 The 2021 Inauguration is one for the history books, the amount of resistance towards the past president, and toward the new president, Joe Biden. The beginning of President Biden's inaugural Address was memorable and very patriotic using the words "hope" and "renewal". He addresses democracy and shows pride in being an american, his speech was a good start to a difficult presidency. With how Covid-19 has affected the world and the way people have reacted to his inauguration and President Trump's past actions, his presidency is sure to show some bumps in the road. 
On January 20, 2021 Kamala Harris made history as the first African American Vice President, her and Biden were both sworn in on inauguration day. Biden made it clear that he would be making numerous changes to the white house, and promised to single in on those made by the previous President, Donald J. Trump. President Biden's 17 executive orders included: support for racial Equity, the opening of schools, preventing Sexuality and gender discrimination, Improving treatments for Covid-19 patients, and several more. 
 Former President Trump also made history that day as the first Previous President not to show up for the next president's inauguration, he was in Florida getting some sun. Although President Trump did not show, Former President Obama and First Lady Michelle did come to show support; As well as Former President Bill Clinton and Hillary Clinton. Covid has changed society and the way that even politicians and the President of The USA does things, so instead of people gathering to see the inauguration in person the Capitol created their own unique way of celebrating. Americans could watch from home and in their place stood thousands of American flags. 200,000 to be exact, they are a representation of the 56 states and all the territories. 
 Another reason the flags were to stand in the place of supporters was to avoid another  risk like the one at the Capital previous to the event or another act of violence, with the New President there security could not risk Biden or Kamala being harmed in the process of the Inauguration. 
Joe Biden has fulfilled his promises and has started filtering out Trump's cabinet and appointed positions starting with the US surgeon General, Jerome Adams, who had been in the position since 2017. He stated in a tweet "It's been the honor of my life to serve this Nation, and I will do all I can to ensure everyone has an equal opportunity to achieve and maintain health,". Doctor Vivek Murthy is now the US Surgeon General appointed by President Joe Biden. 
President Biden has had a fresh start and is taking care of business even within his first 10 days of presidency. Americans hope he does the right things and keeps America the greatest country on Earth.