Trump VS COVID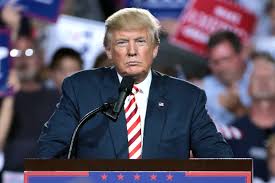 On Thursday, October 2nd President Donald Trump was confirmed by Dr.Sean P. Conley Trumps Doctor. to have Covid-19. President Trump is taking a steroid called Dexamethasone. Dr. Celine Gounder, who specializes in infectious disease, declares it a standard steroid for treating Covid-19 and it is by no means a new drug; it is used to treat inflammation. Before Covid-19, it was being used to treat certain forms of arthritis, severe allergies, and even asthma. This drug causes many side effects such as: upset stomach, vomiting, and headaches. Trump has told reporters he will be extending the use of Dexamethasone and continues to boast about the improvements in his health. 
While he has been taking Dexamethasone, he also underwent a treatment called Regeneron or, "REGN-COV2." This is an antibody cocktail that, as researchers were testing it, showed to reduce the symptoms of Covid. Patients who underwent this treatment, just like President Trump, began feeling better right away. 
People are debating whether Trump deserved to get Covid-19, as they see him out in public with no mask and hear about him not enforcing masks at his rallies. The question is, where does the line get drawn on whether he is only harming himself or if he is putting his supporters in harm's way. President Trump has declared that he only wears masks when he feels the need, and at the beginning of this pandemic he would refuse to wear one at all. This compliance shows President Trump becoming more and more aware that Covid is not going to go away because we wish it to. He says he wears it where it is required, but does not feel the need to wear it where it isn't. 
The Presidential debate is another huge topic of the news as people wondered, was Biden exposed? Biden tested for Covid shortly after the Debate , revealing to the public that he had tested Negative. Since receiving this good news, he has announced that he will be getting tested frequently to be safe and sure. He believes in following the health procedures posted by the Department of Health and in wearing masks. Unlike his political rival, he is not worried about the reporters taking pictures of him in it. President Trump and former Vice President Biden are almost complete opposites in how they are, and will, handle this pandemic.
Both President Trump and The First Lady, Melania Trump, have tested positive for Covid-19. They believed that their son was safe from the virus after he tested negative, but were hit with a "bus" of grief when the second test came back positive. Thankfully, Barron Trump has not shown any symptoms, as he recovered quickly and has tested Negative. Melania and Donald took very different routes for their Coronavirus treatments'. Trump, as you know, took steroids and went through an experimental treatment, while Melania went on a more natural route, taking vitamins and used herbs. This goes to show how aggressive Trump was about getting better and getting back to work, being President of the United States of America. 
Everyone in this country Whether you're a Trump supporter or not, we wish for President Trump and Melania to have a safe recovery.