Assassinations, Sanctions Between Two Nations
US and Iran conflict rises following assassination of top commander.
KNOW
Panic has swept through the nation as conflicts between the USA and Iran are suddenly on the rise. On Jan. 2, 2020, President Donald Trump authorized a precision drone strike on top Iranian commander, Qasem Soleimani. The strike ultimately ended up being effective, killing Soleimani. According to Trump, "Soleimani was plotting imminent and sinister attacks on American diplomats and military personnel, but we caught him in the act and terminated him."
Iran soon responded through a letter to the US that deemed the strike as an act of terrorism and unlawful criminal conduct. Tensions with Iran and the US stretch back as far as the Iraq war, but tensions have been steadily rising at much higher rates since Trump pulled out of Iran's 2015 nuclear deal in 2018. But according to Trump, he had been planning this attack for quite some time now, likely since leaving the nuclear deal.
On Jan 5, Iran announced they will no longer abide by the nuclear deal as well. On the same day, Iraq's Parliament called for a non-binding vote to expel all US forces in Iraq in response to the assassination of Soleimani. Trump has responded by vowing to impose sanctions on Iraq if troops are expelled. Three days later on the 8th, Iran launched several ballistic missiles to American housing in Iraq for retaliation of Soleimani's assassination. There were zero American or Iraqi casualties, however, with little damage done to the bases. Iran military commander, Brig. Gen. Amir Ali Hajizadeh, later released a statement on the following day saying they were targeting the "enemy's military machinery" and that they had no intent to harm or kill. However, Iran's Supreme Leader, Ali Khamenei, claimed Iran only "slapped" the US "in the face" with this event and that "military action is not enough".
Following Trump's action in Iran, the House of Representatives voted in favor of a War Powers Resolution to limit the President's powers, resulting in a vote of 224-194. Now the Senate is preparing to hold a vote that would enact the resolution. This would limit President Trump's power to carry out military action in Iran. So far, the Trump administration's actions in Iran have shown bipartisan disapproval.
On Jan. 8, Iran shot down a Ukranian commercial airliner carrying 167 passengers, leaving no survivors. News spread quickly, with no answers from Iran, and even some protests from Iranian citizens themselves. Finally, three days later, Iran released an official statement admitting they're to blame for the airliner crash. Iranian officials believed the plane to be a cruise missile, and activated anti air measures to destroy the plane. Ukraine initially responded by blocking all air traffic to Iran, then on the 11th, Ukraine International Airlines Vice President Ihor Sosnovskiy released a statement criticizing Iran for being "absolutely irresponsible." Many others from around the world questioned why Iran even had open air space despite the aerial threat from the US.
CARE
The sudden surge of conflict has led many to draw conclusions and drastic assumptions. Media quickly flooded with headlines about "World War III" or the "US Iran War." And it's great to be concerned and prepared for any situation, but military tensions since the strike have majorly de-escalated. As of now, it's unlikely the US will engage in a war with Iran. However, despite the fact that we won't have military conflict, economic conflict is still in play.
The US has faced many off and ons with Iran, but the conflict between the two has been ongoing since the 80s. The US has had many direct and indirect conflicts, with tensions rising and lowering many times over. The recent events are no exception, and will not end conflicts between the US and Iran. The deep roots of conflict in each nation has lead to a long history of both military and economic conflicts. Tensions might be at a lower point than before, but the conflict still isn't over, and it's difficult to predict if it ever will be.
Another common myth, which turned out to be really more of a joke than a serious concern, is the return of a draft. The US draft hasn't been used since the Vietnam war, and if the US were to engage in conflict with Iran, there wouldn't be a need for it given the conditions of our military now.
As tensions continue to de-escalate, the events of the conflict will likely become another tick on the timeline of the long rooted history between the two nations, and will continue to have many more in the future.
About the Writer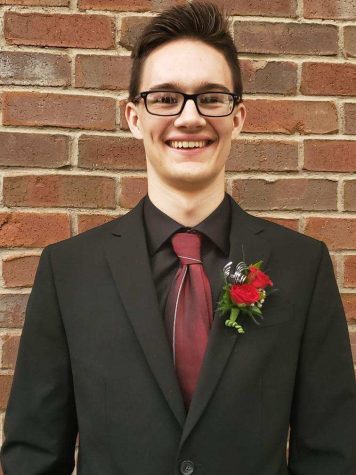 Nic Sloan, Co-Editor
Born December 22, 2001

Snowboarder, pianist (kinda), aspiring mechanical engineer

Berserker Class