A day in the life of a Janitor
According to Lexico.com, a janitor is a person employed as a caretaker of a building; a custodian. However, a janitor is more than a definition. They are people who have jobs that are far more interesting than most people, but the jobs don't define them as people.
Brittany Munns one of Skyline's janitors, wakes up at 3:00 in the morning in order to get  to work by 5:30 am. She starts off by cleaning everything in the office. She takes out the furniture, then vacuums, and quickly shifts to the library. While she's doing this she has to make sure she gets every speck of dust before 7:00 am so the school is nice and tidy for students when they arrive. She also does laundry throughout the day. 
The head custodian Martin McCarty gets up at 4:00 am to join Brittany at 5:00 am. They are both on a timer throughout the day, having to clean the cafeteria, library, classrooms, office, and bathrooms. They only have 3 hours to clean those places, and after that they check the fire extinguishers. If they're expired, they throw them out and have to call the fire department to get new ones.  
The custodians are called upon to do things no human being should ever have to do, and they often aren't thanked or appreciated enough. I went down to look at the lunch room one day, right after lunch before these elves started their magic, and I saw crumbs, food, and garbage everywhere. Janitors rushing everywhere to get everything cleaned up before they have to move onto the next task. Students don't realize all of the messes they make and how hard janitors work to make everything tidy and clean. 
All students could probably do better about being sensitive and aware of the trail of mess they leave in their wake on a daily basis, whether in the cafeteria, halls or class. Not even your mothers should have to clean up after you in this fashion, and they likely wouldn't. Yet our janitors do it day after day.
During the winter, the janitors also spend those freezing early morning hours shoveling the sidewalks and spreading ice melt so students and teachers alike don't slip and fall or break something. They are the first to arrive before ploughs have finished clearing the roads, and they make it safer and nicer for the rest of us to come .It normally takes them an extra hour to do all of this .
Over the summer, all day and night janitors get together and deep clean the entire school.  "We do way more work over the summer than when school is in session,'' Britany stated. They take every single thing out of all of the classrooms, and scrub all of the walls, ceilings, and floors of the entire school. Then they have to move all of the desks, chairs and equipment back into all of the rooms.
The reason why Munns chose this job is for her daughter. By the time she gets done with work, her daughter is already out of school, so it's easier for her to spend time with her. Sometimes they go to the mall, or sports activities, etc. It's tough at times, though, since Brittany only gets three hours of sleep, likely due to the fact that she has to wake up at 3:00 am every morning.
McCoy, the head custodian, says he has heard and seen paranormal activities around the school. "I'm not lying this place is haunted…down in the 100 halls you would be there by yourself, and you would hear somebody slam the door and ain't nobody there." He would know. He is alone at school a lot. Another time he shared, "I was downstairs in the boys locker room cleaning it one night, and all of a sudden the garbage was spinning around…I got out of there quick," he said. "And in the hall right by the pottery room late at night, about 2 or 3, it would be really ice cold and the back of your hair would be sticking up and you could feel there was a presence there."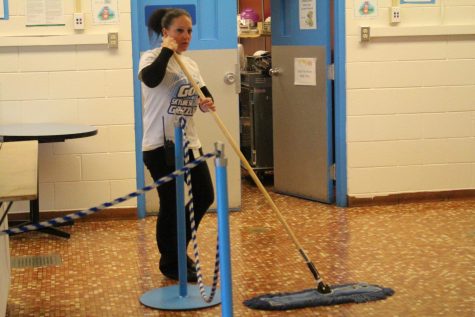 About the Writer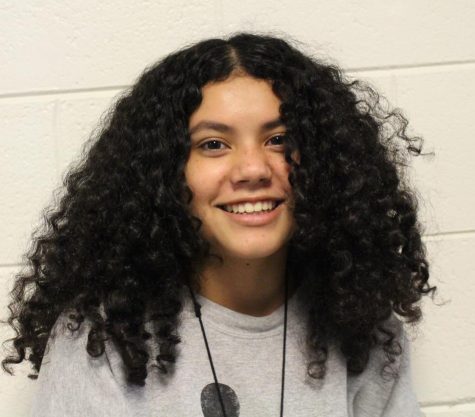 Kate Santoyo, Reporter
Reporter and writer, a little about myself I love soccer, Baking, writing, drawing, and painting