Karsten Birch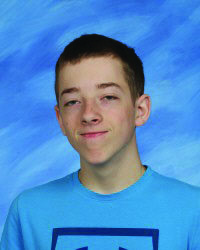 Skyline Freshman Karsten Birch recently passed away on Sept. 18.
Karsten moved to the Skyline area last year when he was going into eighth grade. Before that, he went to Ucon Elementary. For part of his life he life in Yuma, Arizona.
Since then, he has gotten to know his peers as someone who always tried to make others smile. They described him as kind and always making jokes.
Karsten survived by his twin sisters, Jocelynn and Kaidence, his brothers, Oliver and Elliot, and his mother and father.
"
"Karsten was wonderful that way, he was thoughtful towards others and that is something we will greatly miss.""
Karsten enjoyed the outdoors and spent a lot of his time fishing and hiking. He was interested in science, reading, and drawing.
He enjoyed movies about space and studied geology in his free time.
His memorial service was held on Wednesday, Sept. 25 at the Wood Funeral Home.
Faculty at Eagle Rock Middle School spoke of Karsten with love and appreciation,
"Karsten was an overall kind and caring kid. He was always polite to everyone and he never had a bad word towards anyone. It was always great to have him in class because he never forgot to say "thank you, have a great day" to every teacher at the end of class. Karsten always knew when someone needed to hear a kind word, he was always ready with some words to make anyone feel better.
Any time anyone needed a hand, Karsten was there. Needed a pencil? Karsten had one. Need help to class? Karsten could walk you. Need help cleaning? Karsten would pick up. Although forgetful and spacy at times, Karsten was always happy.
Forgetting to return a book to the library was something Karsten did frequently, most likely due to the fact that he loved to read. He always had a book to read and was ready to share what it was about. Karsten enjoyed hanging out with his friends and he played cards during lunch with friends.
One of Ms. McGarry's favorite memories of Karsten was seeing him at upper Palisades lake trail over in May. While she was running the trail, she saw Karsten while he was out on a camping trip. As she was jogging past Karsten gave her a high five and cheered her on since he knew she was training for a race.
Karsten was wonderful that way, he was thoughtful towards others and that is something we will greatly miss."