The Koplin Story: Tragedy turned triumph
May 21, 2019
 "I told myself I was ready to go, this is the end of me," senior Nate Koplin said about his near-final thoughts during his accident last year.
  Koplin's accident took the community by surprise last August when Koplin and his friend Carter Underwood (12) were diving in the Snake River. "We'd dove off this dock millions of times, it was just a dock we always hung out at," Koplin said. What Koplin didn't realize was the sandbar had built up, hidden underneath the water.
  "The current was super strong," Koplin said. "I dove right into it, and immediately I couldn't move. I knew something was wrong." Upon diving, he had buried his head deep into the sandbar. In that moment Koplin described his thoughts as "scared, but I was ready to face the inevitable." But as Koplin clinged onto life, Underwood pulled him out, and Koplin was rushed to Eastern Idaho Medical Center.
  There Koplin received the news that challenged him to face the impossible: In his cervical he broke levels three, four, and five, and thoracic levels five, six, seven, and eight, which were fused back together with rods and screws in surgery. He was put into a six-day coma while the surgery was underway.
  He awoke to devastating news. "They told me I would never be able to walk again. Because of how serious my injury was, I would never have function of my body," Koplin said. The damage to his spinal cord caused Koplin to become paralyzed from the neck down.
  But despite the "set in stone" news, Koplin refused to give up. "I never once sat there and cried and said, 'This is me, this is the end, my life is over because I'm limited,'" Koplin said. "My first thoughts were how fast can I get better? I got to get back to the football field, I got to get back to track season, and I got to get back to Nate."
  After his surgery at EIRMC, he was transferred to the hospital at the University of Utah in Salt Lake City. There they tried to help Koplin in controlling his hand, eventually getting him off the ventilator that breathed for him. Here Koplin spent the duration of his recovery period. It was also here where Koplin's story of triumph began.
  "Like I say, I never once thought I wouldn't get better, despite the odds and what they told me," Koplin said. "I have a mindset, I have goals."
  It would be this mindset that would ultimately help Koplin prevail despite all odds. He spent several months in Utah working through physical therapy and treatments to help him through his long recovery process.
  "The first time I stood up again it was a pretty intense time. I didn't quite feel my legs, but I knew I was standing, and it was a very happy time for me."
  Through all the personal struggles, Koplin still managed to maintain his schooling. "When I'm not doing therapy, I'm doing homework, and I'm still on track to graduate," Koplin said, an impressive accomplishment considering he never actually attended a day of his senior year.
  This in and of itself exemplifies Koplin's tragedy turned triumph. From being told he would never walk again, to walking with his class for graduation on the 28th of this month, Koplin's story is one of perseverance and hope.
  "I feel like our family has gotten stronger because of it. We almost lost him, but he didn't go. We've been really grateful that he's around, and the support from everybody else has helped us become as one," Nate's sister McKenna Koplin (10) said.
  In the words of Koplin, "If you can set goals, and you can see it, you can be it. It's a complete mindset. You got to hit every step it takes to be able to get there, and you can't give up. You cannot give up."
About the Contributor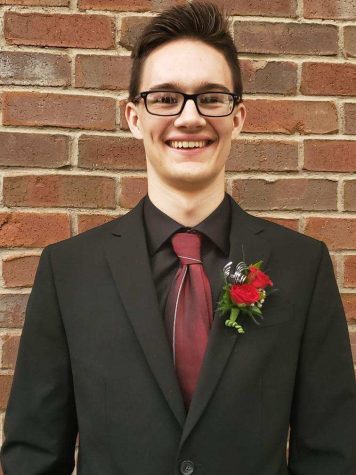 Nic Sloan, Co-Editor
Born December 22, 2001

Snowboarder, pianist (kinda), aspiring mechanical engineer

Berserker Class