Holloway crowned Mr. Skyline 2019
Skyline cheerleaders hosted the annual Mr. Skyline earlier this month, and instead of holding it in the evening, the entire school was able to watch as it was an assembly right before lunch.
Nine brave senior boys braved the stage to perform an opening jungle dance routine to "Tarzan and Jane," complete with lifts and gymnastic stunts and skimpy jungle attire. No one will be able to forget the image of Nick Carter (12) slingshotting his bra into the audience at the end.
Then the talent portion began. First, Orion Lloyd (12) performed a reenactment of a scene from Talladega Nights, followed by Zedekiah Davis (12) tickling the ivories. Next, Zach Lott (12) impressed the audience with his juggling and unicycle riding, followed by Nick Carter (12) performing songs on the xylophone, complete with short legs dancing to his tunes. Spencer Harding (12) demonstrated his oreo-eating skills, Noah Holloway (12) impersonated multiple personalities while covering Katy Perry's "California Girls," Thomas Hansen (12) rocked an ugly Christmas sweater and jingle bells on the piano, while Dallin Hart's (12) racy talent resulted in a fast-paced striptease, and Grant Southwick (12) bowled perfect strikes with the help of a few cheerleaders.
In the next portion of the competition, the cheerleaders escorted the contestants wearing formal wear for the "Pickup Line" competition. Some of the most memorable: Lloyd want to know "on a scale of 1 to America, how free are you tonight?" Davis passed out because his escort was 'too beautiful," Harding dropped his limes because he's "not very good at pickup limes," and Southwick wondered where his escort's signature was because "most masterpieces have a signature."
In the end, Hart won Mr. Congeniality and head cheerleader
 crowned Noah Holloway Mr. Skyline. Contestants won a "Prom Date Package" complete with multiple gifts certificates for a variety of services.
About the Contributors
Janis Orchard, Reporter
I have always be an only child until August 7, 2018 when my stepsister Lincoln Arteth Orchard. I have had so much fun watching my sister grow and react...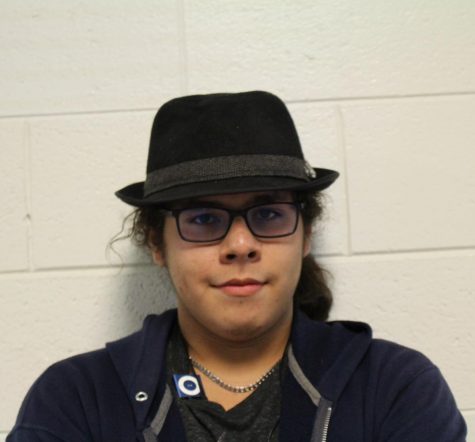 Emilio Lee, Photo Editor
My name is Emilio Luis Lee and I'm the Photo Editor and Senior Editor, as for the reason why I am the Photo Editor is that I'm always the first one to...